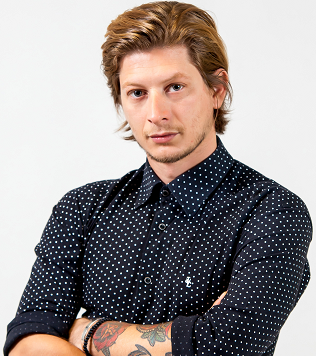 ← ALL FACULTY & STAFF
Eddie Sambanis
HAIR ARTIST
Eddie is an example of innovative thinking and perfect technical training in the hairdressing field on the island of Rhodes.
In 1999 he graduated from the Hairdressing Technical Vocational Training Institute, Asimakis School. At the same time he worked in one of the biggest chains of hairdressers in Greece, "Maik Artistic Team".

In his thirties he is already one of the most successful and rising names in his field in Greece. Not only does he have a successful chain of stores (Eddies-Adda, Browdrybar, Eddies Grooming Room) which operate as seminar centers, but also has a very successful career with awards in world competitions, with well-known designers, hairdressers, world class companies like Schwarzkopf Professional and a signature line of beauty and care products (E.N.A. earthly products).

He has attended a lot of seminars such as:
Toni & Guy Seminar (2001)
L'Oreal, Schwarzkopf Seminar (2003)
Barber Seminar with Matty Conrad (2018)
In 2000 he participated in a seminar as an on-stage instructor with L'Oreal Pro.
In 2002 he was promoted to Store Manager of "Maik Artistic Team" in Rhodes and personnel instructor.
From 2007 to 2010 he was an instructor for the No1 Company in America Redken Artist.
In 2018 he excelled in the world competition Behind the Chair – On Shot Finalist.
Nowadays, along with the management of his business, he teaches Hairdressing at Anko, Rhodes.