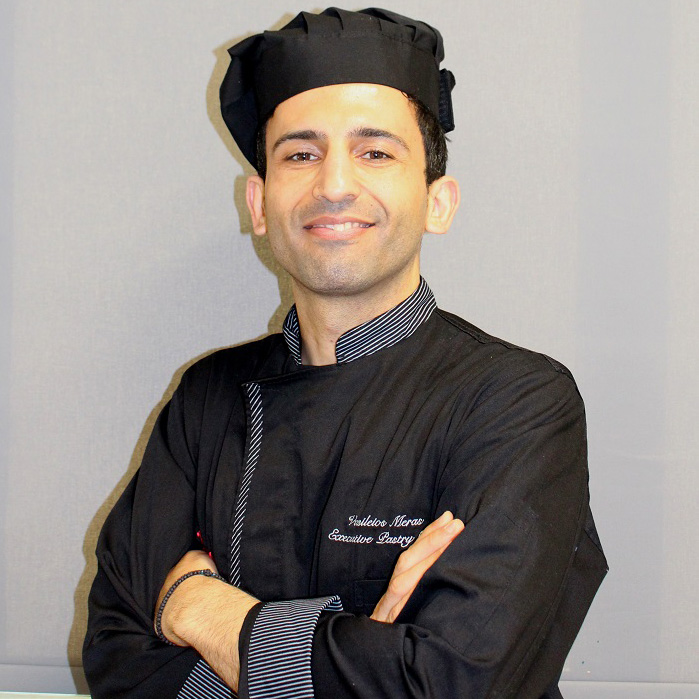 ← ALL FACULTY STAFF
Vassilis Meras
EXECUTIVE PASTRY CHEF
Vasilis Meras graduated from the School of Tourism Professions of Rhodes in 2001. He speaks 3 foreign languages, English, French and Italian. He is a fan of fine arts and photography. He also likes sports on a team level and travel.
As "restless" person that he is, he has attended many shows and seminars. One of the most important seminars he has attended was the Premier Gastronomy Festival-All about Chocolate held by Valrhona in Bansko, Bulgaria in 2014. He also attended Aromitalia ice cream making in 2010 and a show of inflatable and pulled candy in 2008. In January 2020, he visited Callebaut chocolate factory in Belgium and Puratos headquarters.
He has participated in a number of international exhibitions such as the Artoza and Horeca and also the Bakery and Pastry Fair in Paris, France in 2000.
His first professional contact with the world of Confectionery took place in Giannitsa in well-known pastry shops such as Sapore, Stratos and Serano. His start in the hotel industry was at the Aldemar company at the Paradise Hotel in Rhodes. The big step in his career was with his 8-year collaboration with the Rhodes Palladium Hotel under the direction of Pastry Chef Barnava Kyriakou. He also worked for the Atlantica Group as an Executive Pastry Chef for Atlantica Imperial Resort and Spa, Atlantica Aegean Blue, Atlantica Aegean Park for 3 years.
His most important professional step was when he worked in Belgium at the hotel restaurant Saint Nicolas which was awarded a 2 Michelin stars in a la carte pastry.
In the last three years he has returned to where he loved and was loved, Rhodos Palladium as an Executive Pastry Chef.
Along with his work at this major hotel he has collaborated with Confectioneries such as: Finncafe, Cupcake Royal Café, Old Town Fourvari Pastry Sweet Chocolate, Chocolat. Finally, he has also worked at the ASETR School.
He is also a teacher in the Confectionery departments of the Institute of Vocational Training (IEK ) and in the intensive courses of ANKO in Rhodes.