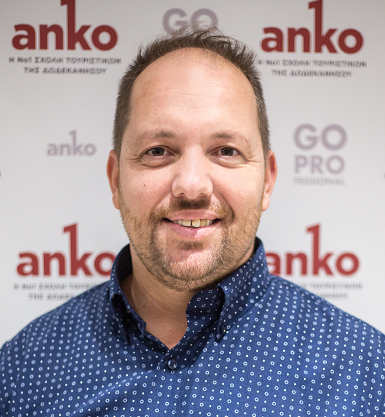 ← ALL FACULTY & STAFF
Vasilis Kalatzis
Owner of Spa - Massage Centers
Vasilis Kalantzis is a graduate of Physical Therapy and Kinesiology School and has attended many seminars on the subject of dealing with athletic injuries - anatomy and knee injuries.
He specializes in the causes and treatment of vertebral column injuries and also specialization in respiratory physiotherapy.

In 2005, Bobath and McKenzie trained his masters and managerial skills through postgraduate studies (in Germany, Thailand, Hawaii and Greece). He has worked for many years in large hotel units as Spa Manager (Neptune Hotels - Resort, Convention Center & Spa / Blue Lagoon Resorts / Artemis Hamam / Kipriotis Hotels / Helona Hotel etc) and since 2018 has started his own management and organization of Spa hotels and has already concluded important collaborations with hotels in Kos.

He is a professor of Spa Massage and Spa manager in ANKO since 2016.