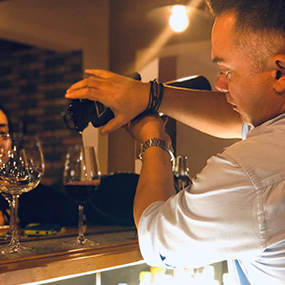 ← ALL SUCCESS STORIES
Georgopoulos Nikos
Sommelier & Bartender
Graduation year 2018
Nikos decided to study in ANKO a little while before he opened his own catering business on the island of Kos.
He believed that in order to be able to create a well-organised business, which will respect its customers and offer high quality services, he would have to obtain all the theoretical knowledge in Bartending and Oenology. His willingness to learn as well as his focus on his aim have become motives for the rest of the students of his class. Today, he owns his own Wine & Cocktail Bar, in Kardamaina of Kos.
"Before I opened Divino Wine & cocktail bar, I had to have some kind of foundation, on which to base my business. Some knowledge on cocktails and wine. ANKO has helped me a great deal, I attended the intensive courses for bar and sommelier.
The teachers of the school, Mr. Drettakis and Mr. Billis, have helped me with their lessons in what I was looking for. I thank ANKO as well as them for their help."