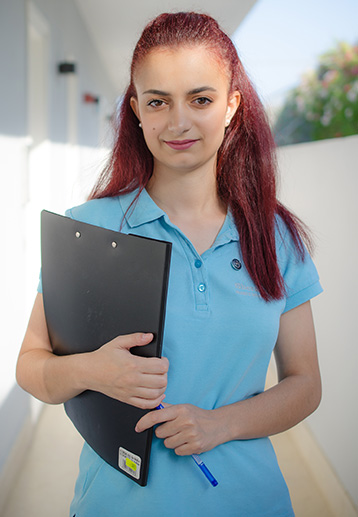 ← ALL SUCCESS STORIES
Despoina Stavroulaki
Hotel management
Graduation year 2017
Despoina Stavroulaki started her studies in ANKO in 2015, the 1st year that the academy started operating in Rhodes.
As a student, she was pretty "quiet", diligent and down-to-earth. Immediately after completing her 1st academic year, she started her internship in the Sheraton Rhodes Resort of the Marriot International, with the help of ANKO.

The position she was assigned was assistant of the housekeeping manager. The people at the hotel were extremely satisfied by the student, even from the fist weeks that she started her internship, and the Human Resources department were planning on Despoina's maintaining her position in the company as their employee. Indeed, since the summer of 2017, Despoina has been working in the Sheraton Rhodes Resort , in the postion of Floor Supervisor.
After all, the key to success is to love your job and you love it when you have thorough knowledge of it

Despoina says: "I am lucky because I have been taught by teachers who hold sound positions in tourism. The academy inspired me, guided me and made me feel sure about myself. During my first professional steps, I had knowledge and I was able to answer all questions. On the way, I got lucky because I work for a company that really cares about its employees and supports them with continuous training programmes."