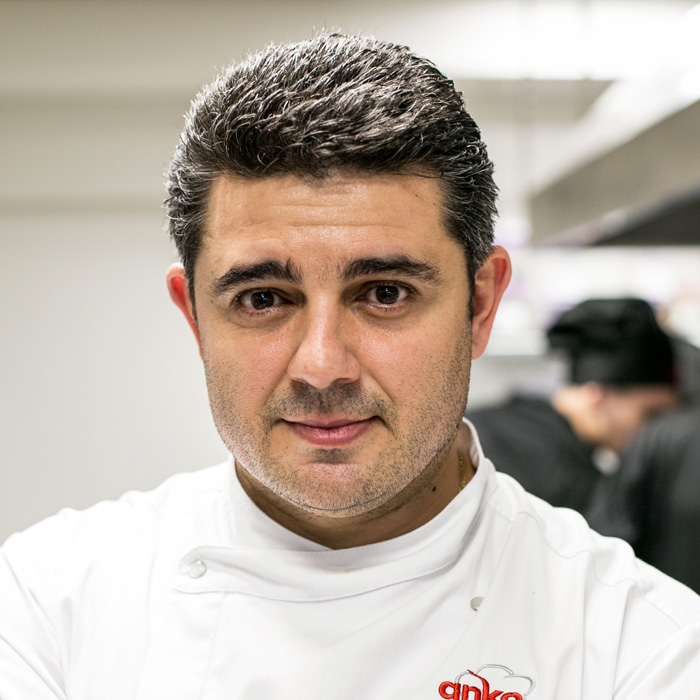 ← ALL FACULTY STAFF
Stavros Manousakis
EXECUTIVE CHEF
Stavros Manousakis was born in 1979 in Rhodes. From 2001 to 2003 he studied cooking at Le Monde School in Athens.
In 2014, he got a Diploma in Japanese Sushi at the "Tokyo Sushi Academy Sushi & Japanese culinary School" in Japan, in 2013 at Le Cordon Bleu in France he finished his training, and in 2012 he obtained a Diploma in German bakery at the Akademie Deutsches Bäckerhandwerk Weinheim in Germany, in 2011 in Calabria, Italy, studied the evolution of the Italian cuisine at the Italian Culinary Institutes, ICI, The Italian Institute for Advanced in 2003 was trained on a personal basis for 3 months in Thai cuisine at the Samui Institute of Thai Culinary Arts: SITCA in Thailand.
He has collaborated and has obtained excellent professional knowledge from chef Simos Dimitriadis and Doxi Bekris as a result of the collaboration with the second was to work as a Guest Chef at the Ritz-Carlton Luxury Hotels & Resorts in Qatar, Doha for four consecutive times and at the Swissotel: Luxury Hotels & Resorts in Smyrna for three consecutive occasions as well as in Milos Restaurants.
His professional career includes important stations: Robinson Club Hotels in Greece and Switzerland, Rodos Park Suites & Spa, Porto Sani Village - Sani Resort in Halkidiki, Kastelorizo restaurant in Athena, Vardis Restaurant (1 star Michelin) at the Pentelikon Hotel Athens Hotel in Athens , Milos Restaurants, Lindian Village Luxury Hotel Resort in Rhodes and finally Atlantica Hotels. As a Sous Chef he worked at Lindos Royal Hotel in 2007 and at Esperides Beach Family Resort in 2008.
Since 2009 he has been working as a head chef for the Lindos Hotels group of the Minnettos family for the Lindos Royal hotels in Lindos Village and for the new luxury block Lindos Grand of the same group that will be in operation in 2018
Finally, he works as a teacher of Culinary Arts at the ANKO of Rhodes department of Cooking Classes.