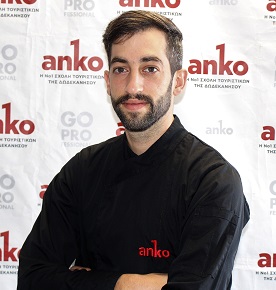 ← ALL FACULTY & STAFF
Giannis Argyriou
BARISTA
Giannis Argyriou started working at a young age around the coffee industry, while for the last 4 years, he has dedicated himself to superior quality coffee. He is a graduate of the specialty of IEK "Technicians - Thermal installations" at IEK Chaidari.
His love and appetite for development in the coffee industry led him to travel to many countries and participate in many exhibitions and workshops.

He is certified in the world organization of SPECIALTY COFFEE ASSOCIATION, in the categories of skills:
Ista Barista,
while in 2019 he participated in Barista Camp.

Seminars :

• HO.RE.CA 2017, Ibrik masterclass (coffee in the pot) With Stavros Lamprinidis, 1st at World ibrik championship 2014.
• Athens Coffee Festival 2018, workshop track Coffee cocktails by Michalis Dimitrakopoulos, 1st at world coffee in good and spirits championship 2016, 2nd at world barista campionship 2019.
• Barista camp 2019, Workshop Track Latte Art Workshop by Manuela Fensore, 1st at World latte art championship 2019.
• Workshop Track, Water Chemistry: Beyond The H2O by Maxwell Collona, ​​3 times winner of Uk barista championship, author of coffee dictionary, And water for coffee
• Workshop Track, Dissecting The Espresso Machine by Paolo Portalupi, electronic engineer of La Cimbali and FAEMA espresso machines
• Workshop Track Foundation Of Tea by Kasim Ali, Founder of Waterloo tea based in Uk
He has worked in many shops in Rhodes, while for the last 5 years he has been the owner of the cafe "Enjoyment". Finally, in collaboration with the company "Charitos & Co. OE", he had taken over the Quality Control and the role of Barista Trainer in the company.

Today, he deals with the regulation, maintenance and repair of coffee equipment, is the co-owner of the espresso bar, Monk the pure roasters and teaches the art of quality coffee in the fast-paced barista departments of ANKO.