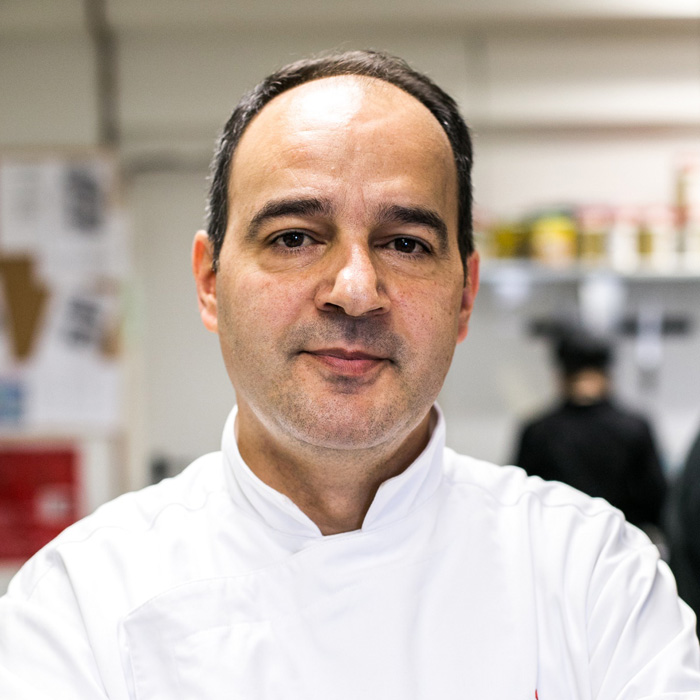 ← ALL FACULTY STAFF
Georgios Troumouchis
Executive Chef
Giorgos Troumouchis started the culinary art journey at a very young age, during his high school years. Having a father who was a passionate chef, he was able to observe him at work during his summer holidays at the Olympic Palace Hotel in Rhodes around the end of the 80 'in really top-of-the-range cuisines.
In 1998 he began working as a Sous Chef at the Rodos Palladium Leisure & Wellness Hotel, where there will be a four year full-time award for the hotel with Head Chef, Tsiinzo Nonta and Christos Athanasiadis.
From 2002 and for the next 6 years he worked at the Hilton Rhodes Resort in Rhodes, the first year as a Sous Chef, with Chef Andrea Scheuregger ,a pioneer, and the remaining 5 as an Executive Chef. As a result of this collaboration with Hilton Hotels and Resorts he was to work as a Guest Chef in Dubai at the One & Only Royal Mirage Hotel and as a Sous Chef in London at The Trafalgar London Hotel of the Hilton Group.
Due to the fact that he always wanted to evolve, he received a degree in "Dietetics & Nutrition" at an Institute of Vocational Training, he had 6 months of seminars at the National Kapodistrian University of Athens on "Tourism & Hotel Management", he obtained a HACCP diploma from the Royal Society for Public Health in London, a Food & Drink Management Diploma at the Hilton Charlotte University Place Hotel and finally attended seminars in Paris at the Ecole Bellouet Conseil.
Since 2008 he has been working at the Elysium Resort & Spa as an Executive Chef. Also in the last 2 years he has been a professor of Culinary Arts in the departments of the ANKO institute of Vocational training in Rhodes. He has written many books on gastronomy such as the Noble Workbook, Metamorphosis and Makria Myrodia (Long lasting Smell).
Finally, he works as a primary teacher of Culinary Arts at the ANKO of Rhodes in the department of Cookery.