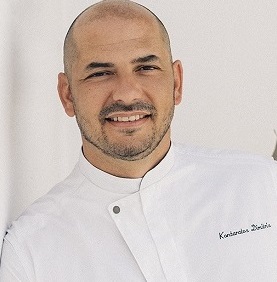 ← ALL FACULTY & STAFF
Dimitris Kontaratos
FOOD TECHNOLOGIST/ R&D CHEF
Chef Dimitris Kontaratos is a graduate of the School of Food Technology of TEI Thessaloniki, has extensive experience in quality systems and food safety management systems and is currently a Health and Food Safety instructor.
After graduating he worked in Germany (Frankfurt and Munich) in the well-known company Kofler & Kompanie - Event Catering and in the popular events The Pret A Diner 'The Tree House' and Pret A Diner 'The Director's Cut' with chefs Nuno Mendes , Juan Amador, Matthias Schmidt, Tim Raue and Ollysan Oliver.
Having worked in the NOMA Test Kitchen in Copenhagen with Chef Rene Redzepi is a great gastronomic achievement.
He is the inspirer of the creative team "Dirty Dishes" and founder of the educational and research studio for gastronomy and bar GIAFKA. Believing that cooking is a kind of technology, he aims at the continuous evolution of the food science and collaborates with professionals of gastronomy and bar for new trends and new materials both in Greece and abroad.
He worked as a Chef from 2013 to 2016 at Gastropub "The Black Adder pub".
From 2016 to 2018 he worked with the Rattan cuizine & cocktail restaurant and he is the scientific and technological partner of Baba Au Rum (which is one of the 50 best cocktail bars in the world).
In 2018, within the Gourmet department of ANKO, he published his first book entitled THE GASTROBOOK which is a training manual and in 2019 he published a second book entitled "Relativity of temperature and time in a bag", an important Sous-vide cooking aid.
Since 2020 he is the Executive Chef at Lindos Blu Luxury Suites, in 2017-2019 he was the Chef at the hotel Esperos Blue Village & Spa, and since 2015 he works as a teacher at ANKO Rhodes, teaching theoretical and laboratory courses at both the IEK and the rapid-learning department of Gourmet cuisine, as well as holds many seminars in Greece and abroad promoting new trends and technology in both the gastronomy and the bar.